The social awareness campaign of BlogCatalog and Amnesty International 'Bloggers Unite for Human Rights' challenges bloggers to expose injustice and abuse and mobilize their readers to take simple online actions.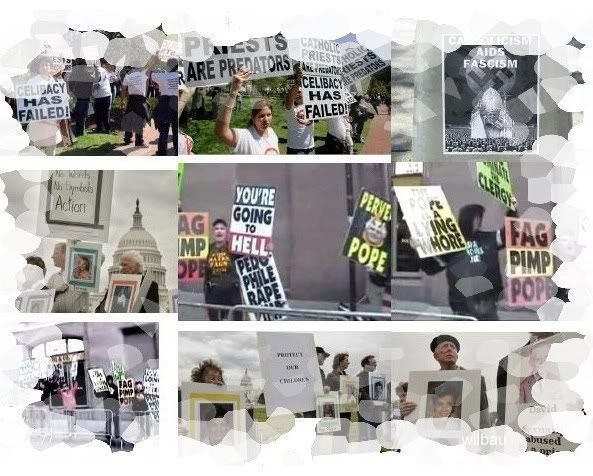 Since the 1950s around 4000 priests in the United States have been accused to have abused minors. The Catholic Church (Catholic Church members, priests etc. were found guilty and) had to pay more than two billion dollars (1.3 billion euros) for the pain and suffering.

Sexual abuse, sexual violence is a violation of human rights.

During the visit of Pope Benedict XVI. in April 2008 to the USA, in an unexpected gesture of reconciliation, he received a group of victims of sexual abuse by Catholic priests and prayed with them.
In an open-air church service before 45,000 people Pope Benedict expressed his concern and his compassion for the victims and denounced abusers. Pope Benedicts said, he is "deeply ashamed".



Critics demanded and demand that deeds should follow these words.

There have also been reported cases of paedophile priests (Catholic Church) in the United Kindom (in England and Wales). People are organizing against child abuse in the UK and you can sign up a petition against coverup of the sexual abuse of minors by priests and against the secret reassignment of abusers to new posts.

At YouTube you might like to have a look on my playlist on sexual abuse.

In this context, some psychologists talk about psychopaths in sheeps clothing.
Just recently there was a series of sexual abuse cases and violence against family members in Austria.
To call someone a 'psychopath' is this helpful?
Or just an elaborated curse word?

There is a challenge for all of us: To watch out ... and take care.


Visit Bloggers and Blogs
that participate in the social awareness campaign:
BloggersUnite